Renew Active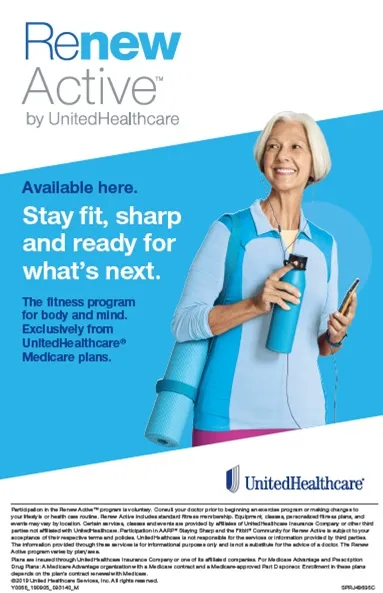 ---
SilverSneakers
KEEPING YOU ACTIVE 
The SilverSneakers® Fitness Program is the nation's leading exercise program designed exclusively for older adults. This provides access to SilverSneakers Programs at the North Central Florida YMCA. The classes utilize certified instructors to help guide participants through exercises that focus on strength, flexibility, mobility, range of motion, balance, agility, and coordination to improve activities for daily living. All participants are welcome to come and join in on the fun.
Stability:
This class is for active older adults. Build strength in hip joints, ankles and knees.
Splash:
Improve agility, flexibility, and increase cardiovascular fitness, strength and endurance. Aquatic equipment will be used. No swimming is required.
Yoga Stretch:
Chair support is offered to safely perform a variety of postures designed to increase flexibility, balance and range of movement.
Muscular Strength & Full Range of Motion:
Have fun and move to the music through a variety of exercises designed to increase muscular strength, full range of motion, and activities for daily living skills.
---
Silver & Fit
Individuals who participate in programming, through our insurance partners, do not have full access to the North Central Florida YMCA facility.